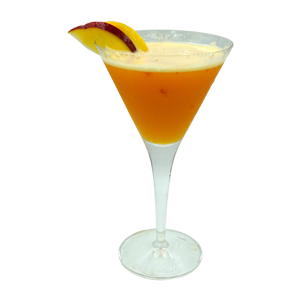 Finest Call The Phoenix
INGREDIENTES
2 oz (60 ml) Finest Call Mango Puree Mix
1.5 oz (45 ml) tequila
1 oz orange juice
2 dashes of Cholula Hot Sauce
Fill with unsweetened tea
DIRECCIONES
Combine first four ingredients in a mixing glass filled with ice. Shake and strain into a chilled martini glass. Top with unsweetened ice tea.
DECORACIÓN
Lemon And Mango Slices
VASO
Martini/Cocktail Glass
PRODUCTO DESTACADO
Mango Puree Mix
We searched the globe until we found the mango variety with superior flavor and balanced sweetness – the "King of Mangoes"! We blend pureed Alphonso mangoes with a touch of all-natural sweeteners for a refreshing tropical treat.

Vea Otras Recetas Con Mango Puree Mix