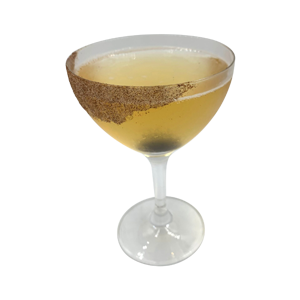 Finest Call Sugar N' Spice
INGREDIENTES
3 oz (90 ml) Finest Call White Sangria Fruit Juice Blend
1 oz (30 ml) vodka
0.5 oz (15 ml) cinnamon whiskey
2 dashes cherry bitters
DIRECCIONES
Combine ingredients in a mixing glass filled with ice. Shake and strain into chilled glass.
DECORACIÓN
Cinnamon And Sugar Dusted Rim And A Cherry
VASO
Martini/Cocktail Glass
PRODUCTO DESTACADO
White Sangria Fruit Juice Blend
What could possibly be better than a nice glass of white wine? Try a nice glass of white wine infused with a tantalizing combination of refreshing fruit juices and served over the rocks! Finest Call White Sangria Juice Blend features banana, peach, grape, lemon, lime, and pear juices, all blended to perfection and designed to create a heavenly white wine cocktail!

Vea Otras Recetas Con White Sangria Fruit Juice Blend