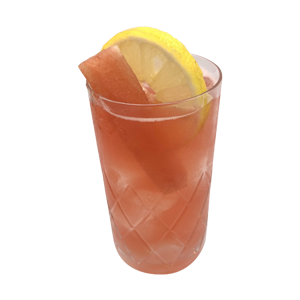 Finest Call Watermelon Mule
INGREDIENTES
1 oz (30 ml) Finest Call Watermelon Puree Mix
0.5 oz (15 ml) Finest Call Single Pressed Lime Juice
1 oz (30 ml) vodka
Fill with ginger beer
DIRECCIONES
Combine first three ingredients in a mixing glass filled with ice. Shake and strain over fresh ice. Fill with ginger beer.
DECORACIÓN
Fresh Watermelon
PRODUCTO DESTACADO
Watermelon Puree Mix
Watermelon is the quintessential summer cocktail ingredient with its refreshing, sweet flavor. Out of the 200+ varieties of watermelon grown in the U.S. and Mexico, we chose handpicked Sentinel watermelons from Washington state, which are known for their deep red interior and crisp, juicy fruit. Use this flavorful puree to add a bright summer twist to your cocktail menu.

Vea Otras Recetas Con Watermelon Puree Mix