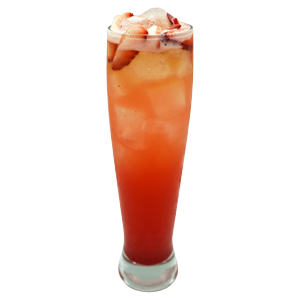 Finest Call Mai Long Tai
INGREDIENTES
1 oz (30 ml) Finest Call Strawberry Puree Mix
3 oz (90 ml) Finest Call Mai Tai Tropical Juice Blend
1 oz (30 ml) white rum
0.5 oz (15 ml) amber rum
DIRECCIONES
Pour strawberry puree in the bottom of a serving glass and fill with ice. Combine mai tai mix and white rum in a mixing glass filled with ice. Shake and strain into prepared glass. Float amber rum.
DECORACIÓN
Fresh Strawberries
PRODUCTO DESTACADO
Strawberry Puree Mix
California strawberries harvested at their peak ripeness are the object of our labor as we carefully blend them with all-natural sweeteners. Great care is taken to ensure the light, refreshing flavor of sun-ripened strawberry shines in your cocktails.

Vea Otras Recetas Con Strawberry Puree Mix