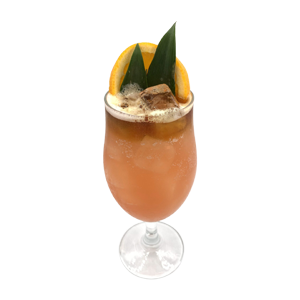 Finest Call Zombie
INGREDIENTES
0.5 oz (15 ml) Finest Call Lime Juice From Concentrate
0.5 oz (15 ml) Finest Call Grenadine Syrup
1 oz (30 ml) white rum
0.5 oz (15 ml) amber rum
0.5 oz (15 ml) apricot brandy
0.5 oz (15 ml) dark rum
1 oz orange juice
1 oz pineapple juice
DIRECCIONES
Pour grenadine in the bottom of a serving glass and add ice. Combine ingredients, except dark rum, in a mixing glass filled with ice. Shake and strain into serving glass. Float dark rum on top.
DECORACIÓN
Orange And Pineapple Slice
PRODUCTO DESTACADO
Lime Juice From Concentrate
West Indian limes give our 100% pure Lime Juice the perfect touch of acidity and soft floral aroma that make it a bar staple used in countless cocktails from a scratch margarita to a gimlet.

Vea Otras Recetas Con Lime Juice From Concentrate