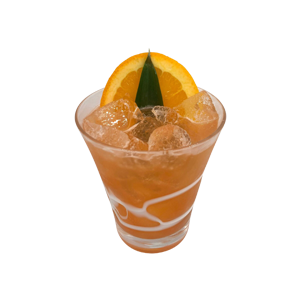 Finest Call Italian Luau
INGREDIENTES
3 oz (90 ml) Finest Call Mai Tai Tropical Juice Blend
1 oz (30 ml) aperol
Fill with soda water
DIRECCIONES
Combine mai tai mix and spirit in a mixing glass filled with ice. Shake and strain over fresh ice. Top with soda water.
DECORACIÓN
Orange Twist And Pineapple Leaf
PRODUCTO DESTACADO
Mai Tai Tropical Juice Blend
Based on the original Royal Hawaiian Mai Tai profile, this delicious pineapple-forward blend of pineapple, lime and orange juices will have you dreaming of the tropics after just one sip. A refreshing summertime Tiki favorite that is excellent on the rocks or blended!

Vea Otras Recetas Con Mai Tai Tropical Juice Blend